The New Payment Style  
At Magnolia State Bank, we are always looking forward to the future of banking, and that future is here! In today's payment industry, you have a variety of options when it comes to how to make a payment, and now we're adding a couple more convenient options. Mobile Wallets such as Apple Pay® and Android Pay™ represent what could be the future of the payment industry and we're ready for that future. Click the appropriate link below to learn more about
 these types of Mobile Wallets and how to use them with your Magnolia State Bank Visa® credit cards and 



Setting Up Mobile Wallet
It takes two simple steps to set up your mobile wallet:
Choose y

our device (Apple or Android phone) 

Add your debit or credit card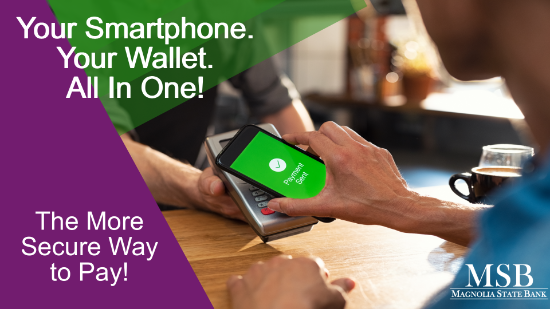 How Mobile Wallet Protects Your Card Information
Mobile Wallet allows you to store your card information securely on your smart phone, and to use your phone to make purchases at over a million stores now accepting mobile payments.  When you pay in store using Mobile Wallet services, you don't share the information contained on your card. it's simple, convenient and secure:
Your mobile device sends a unique, one-time passcode to the merchant's terminal that doesn't contain actual card information like your name or card number. 
Ensure that the app is installed on your mobile device, and if not go to your app store to see if it's available for download.