Pay With Your Android Phone
Tap & Pay with your phone to make everyday purchases using Android Pay.  Use your Magnolia State Bank debit or credit card by adding it to any Android phone¹. You can then use your phone anywhere contactless payments are accepted by looking for participating merchants with the Android Pay logo or Contactless Symbol.
Android Pay uses a virtual card number to help keep your account information secure. Most merchants will never see your full card number when you make a purchase².

What to Look For 

To
be able to use your Android phone for a contactless payment you need to find
the Tap & Pay symbol. 
Protects Your Card's Information
Android Pay is mobile wallet that allows you to store your card's information securely on your smart phone, and to use your phone to make purchases at over a million stores now accepting mobile payments.  When you pay in store using the Android Pay service, you do not share the information contained on your card it's simple, convenient, and secure:
Your mobile device sends a unique, one-time passcode to the merchant's terminal that does not contain actual card information like your name or card number. 
Ensure that the Android Pay app is installed on your mobile device, and if not go to your app store to see if it is available for download.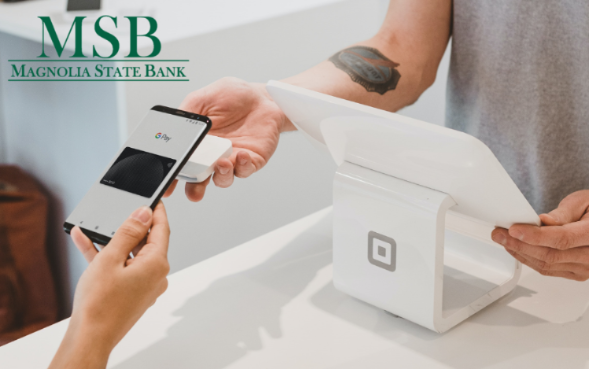 It's as Easy as 1, 2, 3 to Use!
Add your Magnolia State Bank debit and/or credit card to the Android Pay app.

When paying at a merchant that accepts contactless payments, simply unlock your device, hold it near the contactless terminal and follow the prompts.

You can add or remove cards anytime by managing your cards inside the app.
Why wait?
There's no cost to create your virtual card or to use Android Pay³, so let's get started today.
¹Android Pay is available for any NFC- and HCE-enabled Android device running KitKat 4.4+.
²MasterCard & Visa will process your transactions in a similar manner as they do with your physical card, however most merchants will not have access to your physical card number but will receive a virtual card number. Some merchants require the actual card number for certain real-time decisions.
³Regarding fees: Any standard wireless carrier charges may apply. Any standard charges with the use of your actual debit and/or credit card also apply to your virtual card(s).
Android and the Android Logo are trademarks of Google Inc. The Android Robot is reproduced or modified from work created and shared by Google and used according to terms described in the Creative Commons 3.0 Attribution License.