At Magnolia State Bank, protecting your personal identifying information is our number one priority.

In addition to the security features included in our online banking products and services, there are security measures you can take to protect your personal and financial data.

What You Can Do to Help Protect Your Information
Protect Your Identity
Select passwords that are difficult for others to uncover

Consider using a reputable password manager
Use multi-factor authentication whenever possible (sometimes called two-factor authentication or additional authentication)
Do not share your passwords

Keep personal documents in a safe at home or a safe deposit box

Shred personal documents before throwing them away

Monitor your credit

Review your bank accounts monthly 
Always protect your purse and wallet

Protect your computer with up-to-date anti-spyware and anti-virus software

Do not reveal personal information to unverified sources on the phone or the internet

If you think you provided personal information to a perpetrator, change your password immediately, monitor your account activity and contact us.


Online Account Security
Closely monitor your accounts for unauthorized transactions

Always use the log out button to end a browser session

Always ensure that your computer has up-to-date virus protection. Microsoft offers one of the best anti-virus programs for free, and it is included as part of Windows.
Be wary of email as well as their attachments and links

Always contact us at the number on your account statement

Be cautious of clicking on pop-up windows

Be sure that your computer has the latest security updates available

Monitor your account activity by setting up alerts
Red Flags to Watch
Beware of Scams/Fraud Attempts
The bank will NEVER call or email you asking for account numbers, personal information, debit, or credit card information

Never give out your account information, PIN or debit or credit card information

Know and trust with whom you are doing business

Beware of bogus credit report solicitations

Typographical errors in emails are often signs of fraud

Beware of scams - if it is too good to be true, it is, and you should be aware of potential problems
Scams To Avoid
Spoofing Scam
Spoofing is the act of disguising a communication from an unknown source as being from a known, trust source. Spoofing can apply to emails, phone calls, and websites.

Please always remember that:
Technology makes it amazingly easy for scammers to fake caller ID information, so the name and number you see are not always real. If someone calls asking for money or personal information, hang up. If you think the caller might be telling the truth, call back to a number you know is genuine. In the case of spoofing our phone number, if a call recipient tries to call back, they will reach us since it is our number that is being spoofed.
The Bank does NOT call or text to ask any personal questions or request information we would have on file. This includes, but not limited to, social security number, account number, pin number, or debit card number
If you receive any phone call or text to that extent, do not give our any personal information. If so, report to the Bank immediately.
Do not send money or give out personal information in response to an unexpected request - whether it comes as a text, phone call, or an email.


Money Mule Scam
If someone sends you money and asks you to send it to someone else, STOP. You could be what some people call a money mule - someone scammers use to transfer and launder stolen money. Scammers often ask you to buy gift cards or wire money. They might recruit you through online job ads, prize offers, or dating websites.

How to avoid money mule scams:
Do not accept a job that asks you to transfer money. They may tell you to send money to a "client" or "supplier". Say no. You may be helping a scammer move stolen money.
Never send money to collect a prize. That is always a scam, and they might be trying to get you to move stolen money.
Do not send money back to an online love interest who has sent you money. This is always a scam or another way to get you to move stolen money.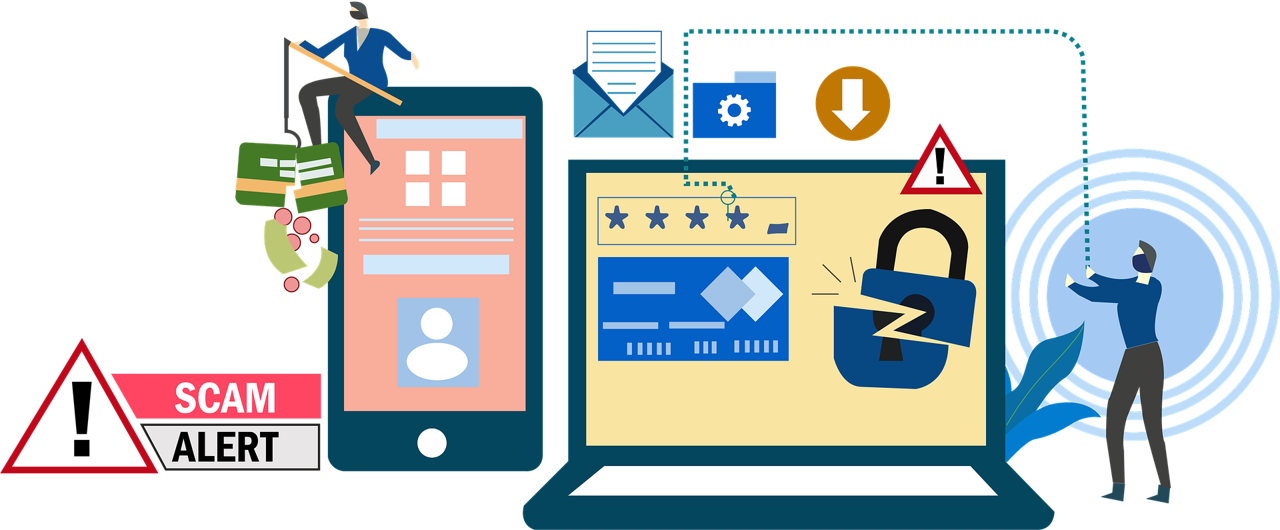 Common Online Fraud Scams
We believe in sharing the latest scams to help you protect your personal information and systems from becoming compromised. Below is a list of some of the more common scams we want you to be on the lookout for.

Secret Shopper Scam
Victim receives a bogus check and they're asked to deposit it, keep some as their pay and then wire the remainder to evaluate a store's money transferring service, or purchase gift cards and text images of the codes to the scammer. The victim's bank does not realize the deposited check is a fake until long after the wired money is gone.

Car Wrap Scam
People solicited to have their car wrapper with a logo of a beer, soda, or other brand. Scammers then send a counterfeit check and tell the victim to deduct their pay and wire the rest to the company doing the wrapping (the scammer). When the checks bounce, the victim is on the hook for the balance.

Overpayment Scams
Fraudsters pretend they want to buy an item on Craigslist, Facebook, or a similar site. They "accidentally" send a bogus check for more than the sale price; then ask the victim to just deposit the check and send them back the difference. When the original check bounces, the victim is out the money sent.

Alternatively, the criminal will intentionally send a check for more than the amount, typically to pay "shippers" who are bogus accounts controlled by the criminal. This most commonly occurs with large ticket items, like cars, motorcycles, boats, furniture, and appliances.

Phishing Scams Using Phones
In addition to using e-mails to obtain personal information, perpetrators also use phones to collect personal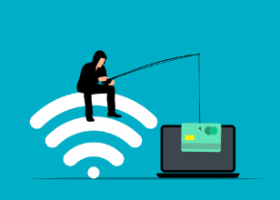 information like your account number, social security number, or your debit and credit card information. You may receive an automated call stating that your account or card number has been compromised and a request is made to contact a specific number to resolve the issue.

The bank would NEVER contact you and ask for your debit or credit card numbers. If you receive a message like this simply ignore or delete it. This serves as further reinforcement to never respond to unsolicited messages requesting account information. If this occurs, immediately hang up and contact us to report the details of the scam, as this phishing scam is trying to get your account number.



Pharming Scams
Pharming scams use e-mail solicitations to lure victims to a bogus site. When the customer clicks on the link provided
 in the e-mail, malicious software is installed to re-direct the user to a fraudulent site where personal information can
 be requested by the scammer. To verify you are visiting a valid website, check for a certificate from a service like VeriSign®. You can locate this information by clicking
 on the padlock icon that appears in the URL address to view the sites security certificate. Be sure to verify the name on the certificate matches the name on the site. Be sure to run anti-virus and anti-spyware software and update your computer with the latest security patches and firewalls.
Bogus Credit Report Solicitation Scams
A visitor to the Bank's website may be presented with bogus solicitations to receive a copy of your credit report. This solicitation is caused by malware, spyware, or adware on the visitor's computer. The solicitation is in no way sponsored or endorsed by the Bank. It is recommended that anyone receiving this solicitation run a full scan with their antivirus and or antispyware program.

Key Logging Scam
Another scam often used is key logging. Key logging software is installed on your machine without your knowledge through an unsolicited email or download of software that infects your machine. The unwanted software is often referred to as "spyware", "adware" or "key logging software" and records everything you type on your computer, including passwords. Some of the symptoms that your machine may be infected by unwanted software include:

Slowing of your computer

Increase in unsolicited emails

Strange browser behavior including increased pop-ups and unexplained changes to your home page settings and favorites
To minimize the risk of key logging, make sure you have up-to-date virus software installed and avoid downloading information from sites or sources that are unfamiliar.


How to Report Fraud
Fraud Prevention Tips for Seniors
Pass It On is the Federal Trade Commission's consumer education campaign designed to encourage older adults to talk to their friends, neighbors, and relatives about scams. Chances are good that someone you know has been defrauded. They may not talk about it, but the statistics do. The truth is that sharing what you know can help protect someone who you know from a scam. The FTC has several articles that you can use to start a conversation. Follow the link below and pass on some information that could help someone you know,
Pass It On
.
Email Security Tips
Be suspicious of any unexpected email, even if it is from someone you know. It is extremely easy for a criminal to forge any aspect of an email.

Never click on a link in an email without first hovering over the link and looking to see where it leads. If it does not match the text of the link, do not click!
Whenever you have any questions about an email, contact the sender by phone or another means to verify whether they meant to send it to you.
If a link takes you to a sign in page, be certain you are at the correct place. Better yet, open a new browser window or tab and go to the website directly to log into your account.
Be especially wary of replies and forwards, especially replies to messages you never sent.

Watch out for messages that you are CC'd on, especially when it is a large group, or you do not know any of the other people that the message was sent to.

If the message urges you to act immediately to avoid a negative consequence or offers to reward you with something of value, be skeptical. This is one of the most common tactics used by criminals.