Pay with you Apple Phone
Easy, Convenient, & Secure
With Apple Pay®, you can make purchases at participating merchants with virtual cards on your iPhone® & Apple Watch®¹. Not only is Apple Pay a convenient alternative way to pay while on the go, but it also allows you to receive the benefits and protection your card currently offers.

What to Look For
Simply add your Magnolia State Bank debit or credit card to the Apple Wallet® app on your iPhone. When shopping, look for participating merchants with the Apple Pay logo or the Contactless Symbol. 

You can always manage your cards in Apple Pay on your iPhone by adding or removing cards at any time. To review your recent card activity, simply access your online banking or mobile banking app.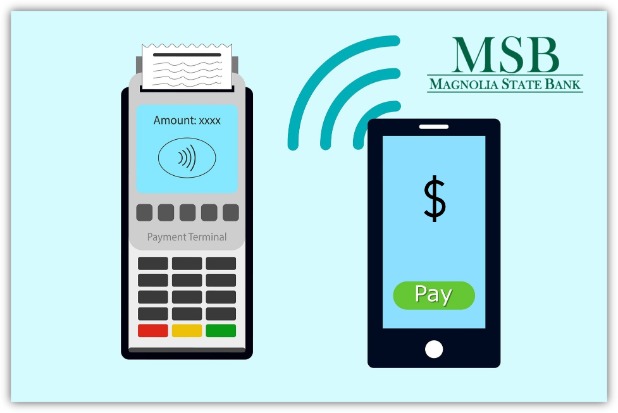 Your Security is Important to Us
When you make purchases using Apple Pay and your Magnolia State Bank debit or credit cards, your full card numbers are never shown to the merchant². Also, if you ever misplace your iPhone, it's simple to use Apple's Find My™ iPhone to promptly put your device into Lost Mode to lock or completely erase your device, further protecting your financial security.

What are you Waiting For?
There's no cost to create your virtual card or to use Apple Pay³, so let's get started today!
¹Available on iPhone 6, Apple Watch, iPad Air 2 and iPad mini 3. See Apple site (Link to https://support.apple.com/en-us/HT201239) for complete list.
²MasterCard & Visa will process your transactions in a similar manner as they do with your physical card, however most merchants will not have access to your physical card number but will receive a virtual card number. Some merchants require the actual card number for certain real-time decisions.
³Regarding fees: Any standard wireless carrier charges may apply. Any standard charges with the use of your actual debit and/or credit card also apply to your virtual card(s).
Apple, the Apple logo, iPhone, and Apple Watch are trademarks of Apple Inc., registered in the U.S. and other countries. Apple Pay and Touch ID are a trademark of Apple Inc.