Stay Connected
With real-time text alerts sent to your phone, you can quickly detect and stop fraudulent use of your debit card. Once enrolled, you will receive a text message anytime your MasterMoney™ Card is used.  This is a tool that will allow you to stay up to date with your account(s)
activity.

Alerts Available for you to receive:
ACH Deposits

ACH Withdrawals

ATM Withdrawals

Balance Alerts

Direct Deposits

Automatic Payments

(Netflix, Insurance, etc.)

Cash
Available Fund to Spend


To Sign up Today
You will have to contact
Customer Service
to get the Instant Text Alerts set up for your account(s).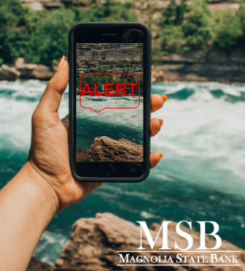 PLEASE NOTE:
This is a text communication. The following may apply.
Message frequency varies by account

Message and data rates may apply

Text HELP to 72586 for help

Text STOP to 72586 to cancel
Participating carriers include AT&T, Sprint, T-Mobile, Verizon Wireless, Boost, Virgin Mobile, MetroPCS, Alltel/AWCC, Cricket, Google Voice, and U.S. Cellular.