Protect your Business from Check Fraud
| Upload | Personalize | Approve |
| --- | --- | --- |
| Submit an electronic file each time you issue checks | Payee Positive Pay is an optional service that adds a payee's name onto the check | Exceptions are presented to you for approval |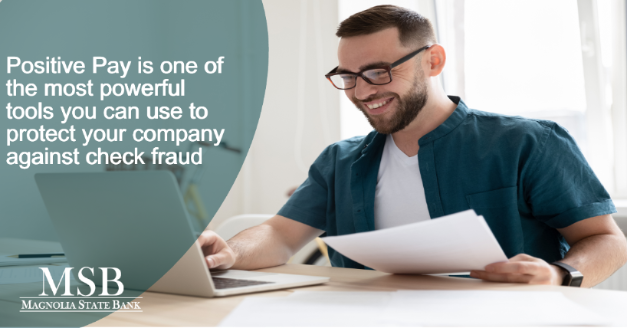 How it Works
Enhanced Protection 
Check Positive Pay examines each and reports any irregularities found, directly to you.
When your company issues a batch of checks from your accounting institution, they are imported to the Check Positive Pay system prior to their distribution. 

As those check reach us for posting, we are comparing details from the information your company provided us, such as the check serial numbers, date, amount, payee, and the account.

If the checks have differences or discrepancies are found, then the check(s) will be flagged. 
The suspicious check will be placed in the Check Positive Pay "Exception" list for you to review and the company advises us how to proceed (pay or not pay).
| Identify | Compare | Review |
| --- | --- | --- |
| Check Positive Pay matches the check number, dollar amount and account number against an electronic file provided by your business that contains a list of issued checks | We compare every check presented for payment against the cumulative electronic file | Checks that do not match this list are returned for review.  You determine whether they should be paid or returned |
Additional fees may apply with this service.
If you have Positive Pay setup, click the button below or the "LOGIN" button in the top right corner: